Description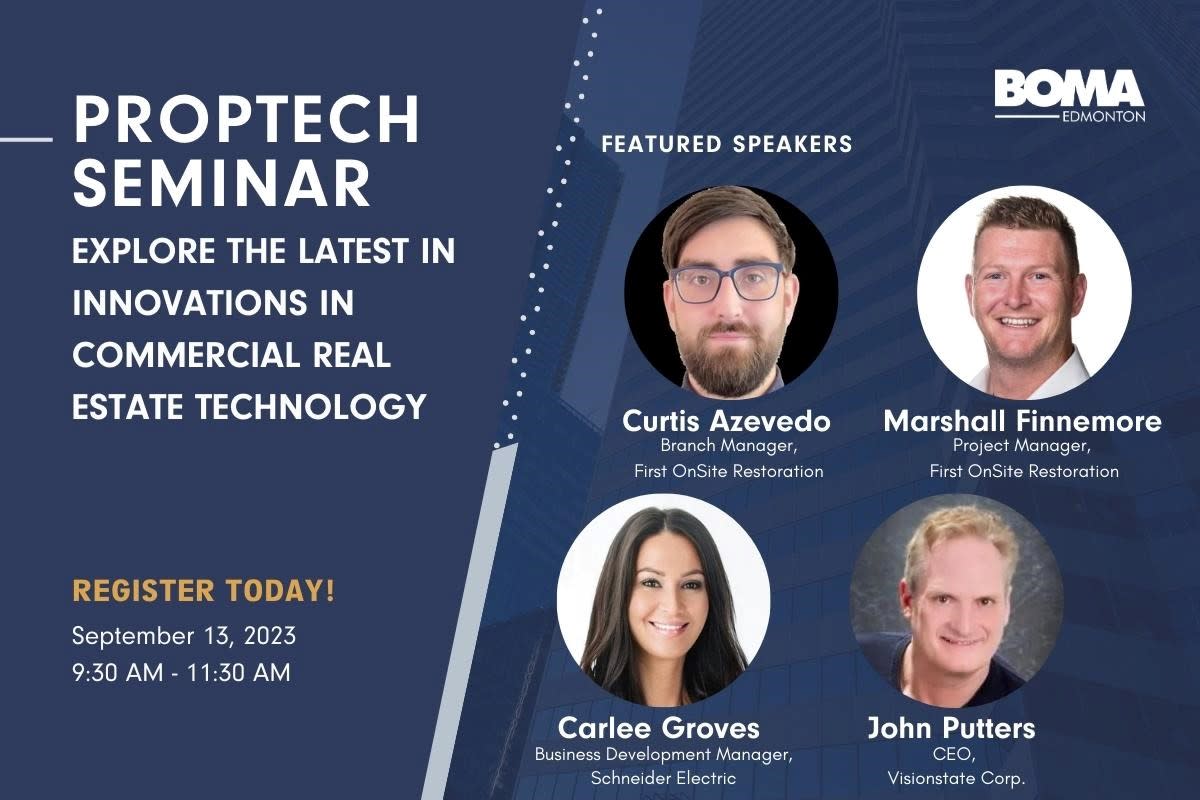 Discover the powerful synergy of the Internet of Things and AI, unlocking new opportunities, enhancing efficiency, and providing actionable insights through connected devices. Learn about advanced 3D imaging and virtual tour technology for streamlined assessments, documentation and emergency mitigation. Uncover the significant advancements in electrical technology that have improved sustainability, reduced costs, and enhanced occupant safety and comfort.
𝗙𝗲𝗮𝘁𝘂𝗿𝗶𝗻𝗴 𝘀𝗽𝗲𝗮𝗸𝗲𝗿𝘀 𝗳𝗿𝗼𝗺: Visionstate Corp., Schneider Electric and First Onsite Property Restoration
Curtis Azevedo began his career with First Onsite in 2013 as a technician during the Alberta floods.
He continued to work with the company while completing his Bachelor of Science in Applied Mathematics and advancing through a variety of roles in his time at First Onsite,– from general labourer to water technician, to site supervisor and project manager.
Most recently, as the branch manager in Edmonton, Curtis has been an integral part of the company's expansion in the region. With so many large catastrophic events throughout Alberta in recent years, he has been on the ground working alongside insurance partners to make a positive impact.
"Curtis has quickly climbed the ladder and has shown great aptitude and focus on delivering the best experience to partners and customers," said Jamie Mackie, Regional Vice President – Prairies, First Onsite Property Restoration. "He brings a strong desire for learning and deep industry insights that will help First Onsite continue to grow"
Marshall Finnemore - Marshall has been working in the construction industry since 2002 and in property restoration since 2010. He began his career in the industry as a carpenter and quickly moved into the role of a residential project manager for First Onsite. His strong attention to detail and leadership abilities quickly advanced him into the role of a large loss project manager. Marshall has managed many catastrophic events such as the Slave Lake fires, Fort McMurray wildfires and the High River floods. He is very active in the industry being on the board of directors for the Alberta Association of Insurance Adjusters and the Honorable Order of the Blue Goose International.
John Putters is CEO and founder of Visionstate Corp. John has a long history in technology and has a track record for innovation, including the company's proprietary WandaNEXT product which tracks cleaning and maintenance activities in the facility management sector. John is a graduate of the University of Alberta, and holds a BA in Political Science and Economics. John is also an active volunteer in the City of Edmonton and is President of Edmonton Federation Hockey League and is an executive member of Hockey Edmonton.
Carlee Groves is Schneider Electric's National Digital Services Business Development Manager within Schneider Canada's Digital Building's team. Carlee helps end-users optimize building maintenance, save energy and improve occupant comfort through PropTech, such as EcoStuxure Building Advisor, an automated fault detection and diagnostic tool. She spent nearly eight years with BC Hydro and, more recently, an analytics SaaS company.
With over 120,000 employees in over 100 countries worldwide, Schneider Electric drives digital transformation by integrating world-leading process and energy technologies, end-point to cloud connecting products, controls, software and services, enabling integrated company management for homes, buildings, data centers, infrastructure and industries.